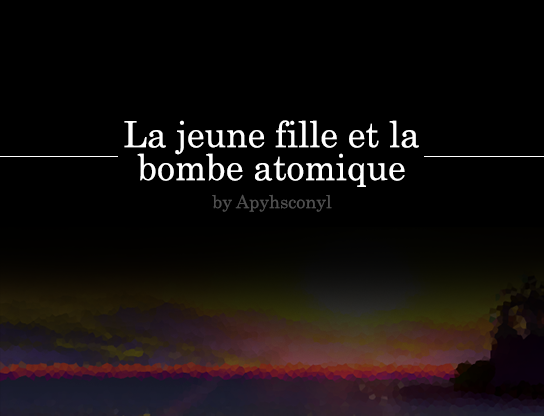 La jeune fille et la bombe atomique
A downloadable game for Windows
ENGLISH :
"La jeune fille et la bombe atomique" (the young girl and the atomic bomb) is an experience made for the 3rd JAM of RPG Maker Alliance.
It is not a finished product, please be considerate. Also, the game requires an advanced understanding in French and it is not easy to translate, maybe I will try to intend a translation in the days to come.
Only the mouse is required to play.
This is based on a dream I had in July 2018.
FRANÇAIS :
"La jeune fille et la bombe atomique" est une expérience plus qu'un jeu faite pendant la 3ième JAM organisée par RPG Maker Alliance.
Cette production n'a pas pu être fini dans le temps imparti et ne propose donc pas de véritable fin, merci de votre compréhension.
Seule la souris est nécessaire pour jouer.
Tout ceci est basé sur un rêve que j'ai fais en Juillet 2018
CREDITS (Spoilers) :
https://pastebin.com/5JK7SGfJ